Overview
Note: Help content (except videos) has been updated to reflect the UI/UX changes in CORE.
If you are a busy professional, you can set up notifications and reminders instead of checking CORE every now and then for any submissions or approvals. CORE provides a robust system to disseminate notifications, reminders and alerts to you, depending on your security permissions and role in the company. This powerful notification system makes sure you are informed about important submissions, assignments or tasks, and alerted about potential areas that need immediate attention. The Notifications feature, often integrated into the Dashboard, reminds the logged-in users of action items that are pending and concern them. Click to watch this video on setting up notifications in CORE.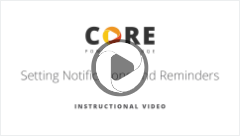 The Notifications screen displays the following main categories of notifications:
System-generated: These messages inform you about actions to take, such as print invoices, approve time entries, process recurring invoices, and so on. Reminders are automatically set for the time and expense entries that are unapproved.
User-defined: CORE triggers some reminders when you specify those in the Settings or User Settings screens.
Date-triggered: Date-triggered reminders use your computer's system date to determine when to deliver the reminder. Project due date reminders start showing up 7 days prior to due date (customizable from User Settings).
Typically, notifications are there to alert you about something important that has happened in CORE while as reminders alert you about something that has to happen in CORE. You can see recurring or memorized invoices, bills and checks under these notifications too. On clicking, CORE displays a screen for viewing or processing them. Besides these, you can see notifications and reminders for time and expense entry, projects, bills, budgets, etc.
CORE allows you to choose your notifications and reminders on the User Settings screen. Notifications can be set up to display on screen, be emailed to specified groups or individuals, or display on the dashboard. The refresh interval is set to one minute by default for notifications and reminders.
Basic Tasks
View Notifications and Reminders
Set Notifications and Reminders
View Notifications and Reminders
To view a notification, watch this video or follow these steps:
Click on the top icon bar.




On the dialog, you can see the new notifications and reminders on two separate tabs.
Click All Notifications to open the main

Notifications

screen.
You can see all your notifications and reminders listed on the screen on the respective tabs.




On the Notifications tab, click Actions to take any action on the selected notifications:
Set Notifications and Reminders
To set up a notification or reminder, watch this video or follow these steps:
Click on the top icon bar.




On the dialog, click the Settings link at the bottom. Alternatively, click All Notifications and then Notifications Settings on the main Notifications screen.
It takes you to the

User Settings > Notifications

screen. You can also open it directly from the top user menu > User Settings.




On the

Notifications

panel, select the relevant notifications and options. You can set the reminders on the

Reminders

panel.
Click Save. Check User Settings for details.