User encountered an error in CORE while sending vendor bills to QuickBooks Online. This can also happen when sending time or expense entries.
Vendor Bill No.: X Business Validation Error: There is no account associated with the item "Item Name". Is it marked for purchase, and has an account associated with it?
This error is actually a QuickBooks notification indicating that one or more of your product or service items have an incorrect account mapped to them (for example, income or expense account).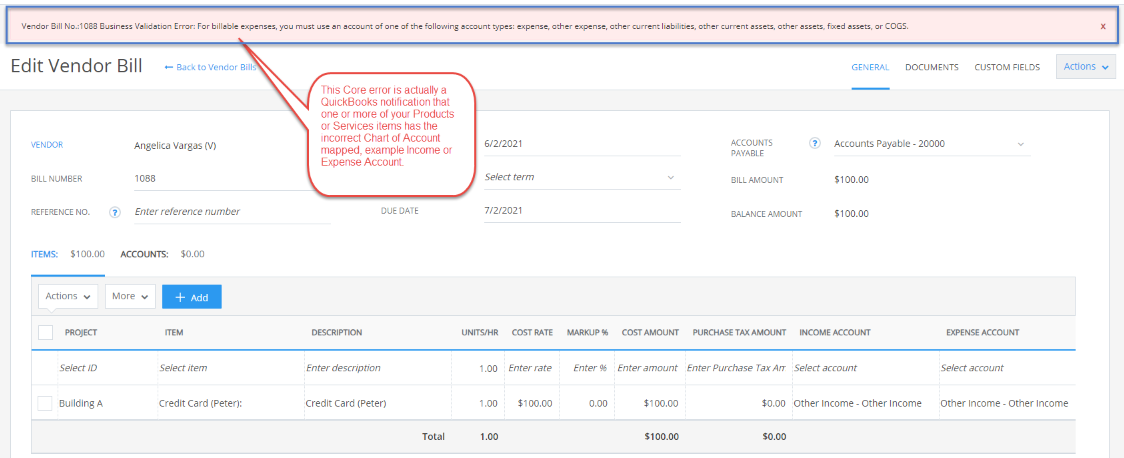 To fix this error, you need to verify if the items (activity or expense) linked to this vendor bill have the correct purchase or expense account set in the QuickBooks Products and Services screen. To fix this issue, follow these steps:
Go to QuickBooks Online > Sales > Products and Services tab and open the details of the product or service item used in the vendor bill (Action > Edit).
In the Product/Service information side panel, select the option I purchase this product/service from a vendor under Purchasing Information.


In general, for billable expenses, you must use an account of one of the following account types: expense, other expense, other current liabilities, other current assets, other assets, fixed assets, or cost of golds sold (COGS).
Now you should be able to send the vendor bill from CORE.