Overview
The Payment Terms screen allows you to set and customize payment terms for your invoices. Payment terms indicate when you expect to receive payment on an invoice from a client. It is used to display a message on the invoices regarding the date when the invoices are due. In case of tardy clients or late payments, the specified interest or late fee can be charged. These terms determine the accounts receivable and aging for the invoices.
You can create a list of often-used payment terms in the Payment Terms screen. For example, if you expect payment from a client within 30 days and you charge an interest rate of 5% on late payments, use the Net 30 term having 30 grace days. You can specify the payment terms at the global, client or project level. Click to watch this video on setting up payment terms in CORE.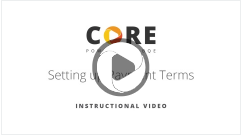 Basic Tasks
Field Descriptions
Field Name
Field Description

Payment Terms >

Days
Number of days after which interest or late fee is charged on late payments. This is a grace period provided after which the interest or late fee is charged to the clients on outstanding invoices. You can also set the payment as Due Upon Receipt for invoices, including late fee invoices. In that case, the grace days are 0.
Add Payment Terms
To create a new payment term , watch this video or follow these steps:
Open the Payment Terms screen from the side menu > Settings > Billing & Invoices.





Click Add.

Enter the required information in the top row of the grid. Check Field Descriptions above for details.
Name

Days: Number of days after which interest or late fee is charged on late payments.
Click Done.