Companies often focus their efforts on project management, and far too often neglect their human resources. Now, with CORE HR, companies can have a single platform to manage all aspects of their business and adequately care for its greatest asset—its people. 
CORE includes an HR management feature that allows you to easily store and manage all of your HR records, documents, and forms from one secure, digital location.
Overview
With CORE HR, companies can compile all information into a single-entry point to monitor, track, and update employee-related information, benefits, and growth that's critical to the success of your company. Over time, CORE helps with establishing a deeper communication between employee KPIs, benefits and usage, performance evaluation, and tracking of employee health, safety, training, milestones, and achievements. 95% of CORE users said CORE HR cuts hours of their time spent on paperwork, leaving more time for meaningful activities like management and mentorship. When you're not bogged down by all those repetitive and routine administrative HR tasks, you're free to focus on developing your organization and people.
By using data driven leadership, companies have the opportunity to identify weaknesses, create growth, and maximize the opportunities for high-performing employees.
Benefits
Many small and medium sized businesses struggle with tracking and maintaining records related to employee benefits. For entrepreneurs or owners who also must remain billable in their business, this can be especially daunting. Moreover, employee benefits can be difficult to track manually for companies that use an accrual process. CORE HR tracks items such as salary history and benefits in a way that's simple and smart. CORE HR automatically tracks paid time off, adjusts balances accordingly, and calculates benefit earnings so you can reduce the risk of violating labor laws.
With CORE HR, the process of benefit allocations and tracking becomes seamless and simplified. You can track the benefits earned and used, such as health insurance, sick time, vacation, personal time off, comp time, retirement package, etc. The flexibility provided in CORE allows you to customize the benefit management process according to your company's HR policies.
HR Forms
In CORE HR, you have the ability to upload HR forms for your organization, or design new ones in compliance to industry, local, state and federal guidelines. This allows you to customize any specific document to record any information unique to your organization, plus manage the collection, organization and receipt of each form—employee by employee.
Performance Reviews
Many small businesses find it difficult to keep up with employee performance reviews. Many times, being able to qualify and analyze employee performance is subjective. With CORE HR, this is no longer an issue. With performance-based, real-time data, employee evaluations and reviews become data-driven and growth can be ascertained and tracked. Opportunities to grow will also be visible, and improvements will be measurable and manageable.
By using CORE's Employee Performance screen, you can select a date range to focus your analysis.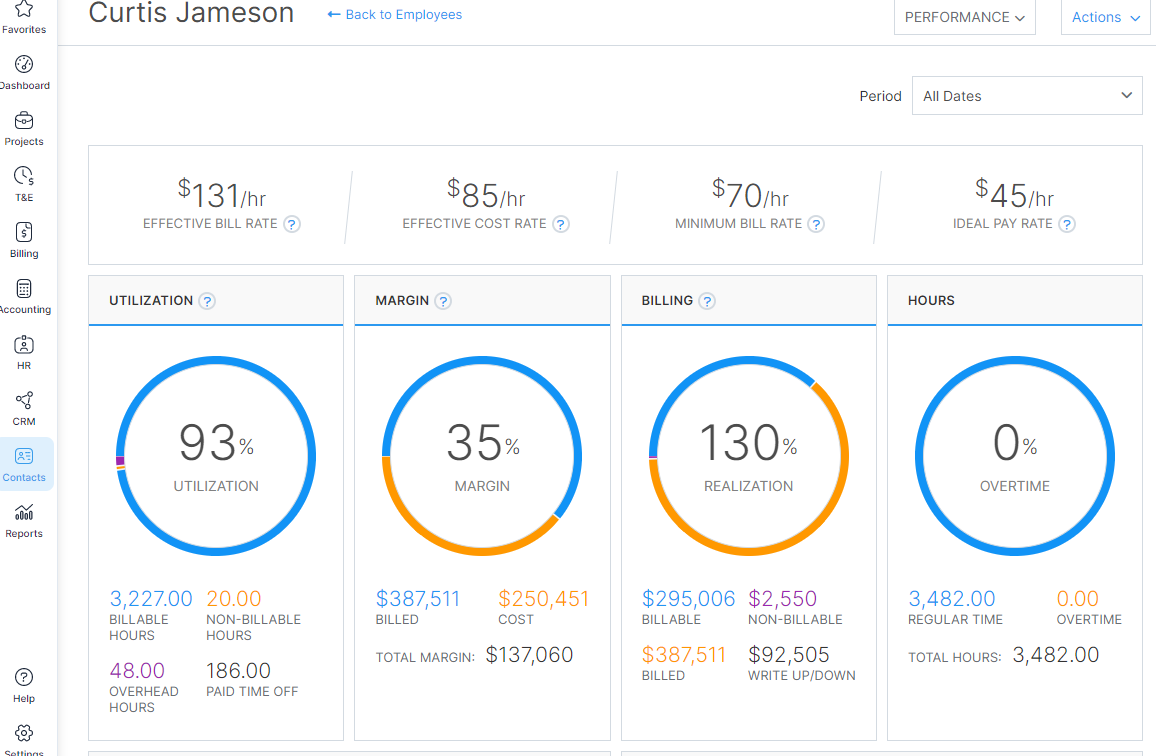 This screen shows you everything you need to know about your employee's billing and cost rates, as well as utilization, and more:
Effective Bill Rate: An average of the total billable hours logged by employee and those billed to the client. It reflects discounts, write-up/down, and write-offs. This will help you manage the appropriate rates charged per employee.

Effective Cost Rate: The average total cost of hours billed to clients. From this metric, companies will have a better understanding of their payroll and overhead margins.

Minimum Bill Rate: The baseline bill rate of employee that produces the target profit per hour. The lowest rate you would be able to charge a client and remain profitable.

Ideal Pay Rate: The precise rate at which an employee should ideally be paid to achieve a target profit percentage. Best pay-rate to offer employee based on performance.

Utilization: Gives a measure of the billability of an employee's time. Managers can easily see how much employees contribute to profit-generating activities.

Margin: Displays profit potential of an employee for the company. Employees with greater margins generate greater profits for your organization.

Billing: Clarifies the realization percentage and indicates how much an hour of employee's time is worth by looking at the total revenue realized from billed hours. 

Hours: Compares the ratio of hours worked that are regular versus overtime. This can help managers understand which employees are working over the regular hours and decide if tasks can be reassigned to others based on skill level.

Gross Margins: Reflects the gross profitability of employees. Billable and Billed margin metrics are similar except the billed one looks at actual revenue earned and not just what can possibly be billed. To evaluate this, the manager or company leadership will be able to understand the employee contribution to the organization.
From these KPIs, data can be unified to provide specific, tangible metrics for growth of an employee in an organization. Tracking performance from year to year also becomes a dynamic way to validate raises and promotions within an organization. CORE HR offers one centralized spot to summarize and record employee performance that help companies meet state and federal human resource guidelines.
Incidents and Journals
Proving worth is difficult. Monitoring the health and safety of employee communicates a culture of value. Whether you're just starting to establish an awareness initiative or looking to upgrade an existing program, CORE HR makes it easy to record, track, manage and resolve workplace incidents while also recording particular achievements in journal records. This allows the organization to set measurable goals for behavioral improvements.
Without proper documentation of workplace incidents, little can be done to curb behaviors or set standards of safety in the workplace. These investments in time and management, training, awareness, and implementation of programs have a huge ROI when considering lost time, expense, and liabilities that workplace injuries or unsafe work environments can impose on a small business. 
Fortunately, CORE HR offers straightforward ways to track effectiveness and set the stage for a successful incident reporting, management, and tracking initiative.