Employee KPIs are critical metrics for the health of a project and company overall. There are specific indicators that managers should know, identify, and use as drivers to lead company success. However, these data points are only valuable when the data analyzed is comprehensive and accurate. When identified, these elements can help drive pay rates and billing rates for each employee, optimizing and maximizing employee contributions to grow an organization.
How CORE Helps You Track Employee KPIs
With BQE CORE, not only can you track all of this, but you can also compile all of this information into specified reports that are critical to the success of your company. Over time, CORE helps you establish a deeper understanding between company KPIs, project KPIs, employee KPIs, and even client and vendor KPIs. This data—alongside an understanding of the working relationship—will have a deep and lasting impact on the decisions and growth of a company.
First, you must break down the overview into its designated pieces. Only then can you gain an understanding of how the parts operate as a whole within your organization. This helps to create more accurate decision making today and for the future.
CORE tracks each level of performance (top-down) for all aspects of your business, which are made available through dashboards, performance tabs, and reports. By using data-driven leadership, companies have the opportunity to identify weaknesses, create growth, and maximize opportunities that perform consistently high within the organization.
Employees are the powerhouse of any industry. They are the direct service providers that facilitate work for a company's clients. But how do you know if your employees are performing as they should?
There are many metrics that you should regularly check to ensure that everything is on track. If you have to track and calculate everything on your own, through spreadsheet after spreadsheet, staying on top of it can be difficult. Even if your company has implemented technology to assist in this effort, some of the most sophisticated project management software doesn't make data access and analysis as easy as it should be.
With a solution like CORE, employee management is easier. There are several key project performance indicators which you need to track. CORE provides several ways to interface with that data, allowing project managers the flexibility to engage with the data in a way that is best suited to drive results for the company and team.
10 Employee Performance Metrics
CORE Employees screen gives you a brief, clean overview of your current high-level financials in terms of what's ready to bill, your work in progress, and what's overdue.
After you click on an employee record, you can move to the Performance tab. You can then select a date range to focus your analysis.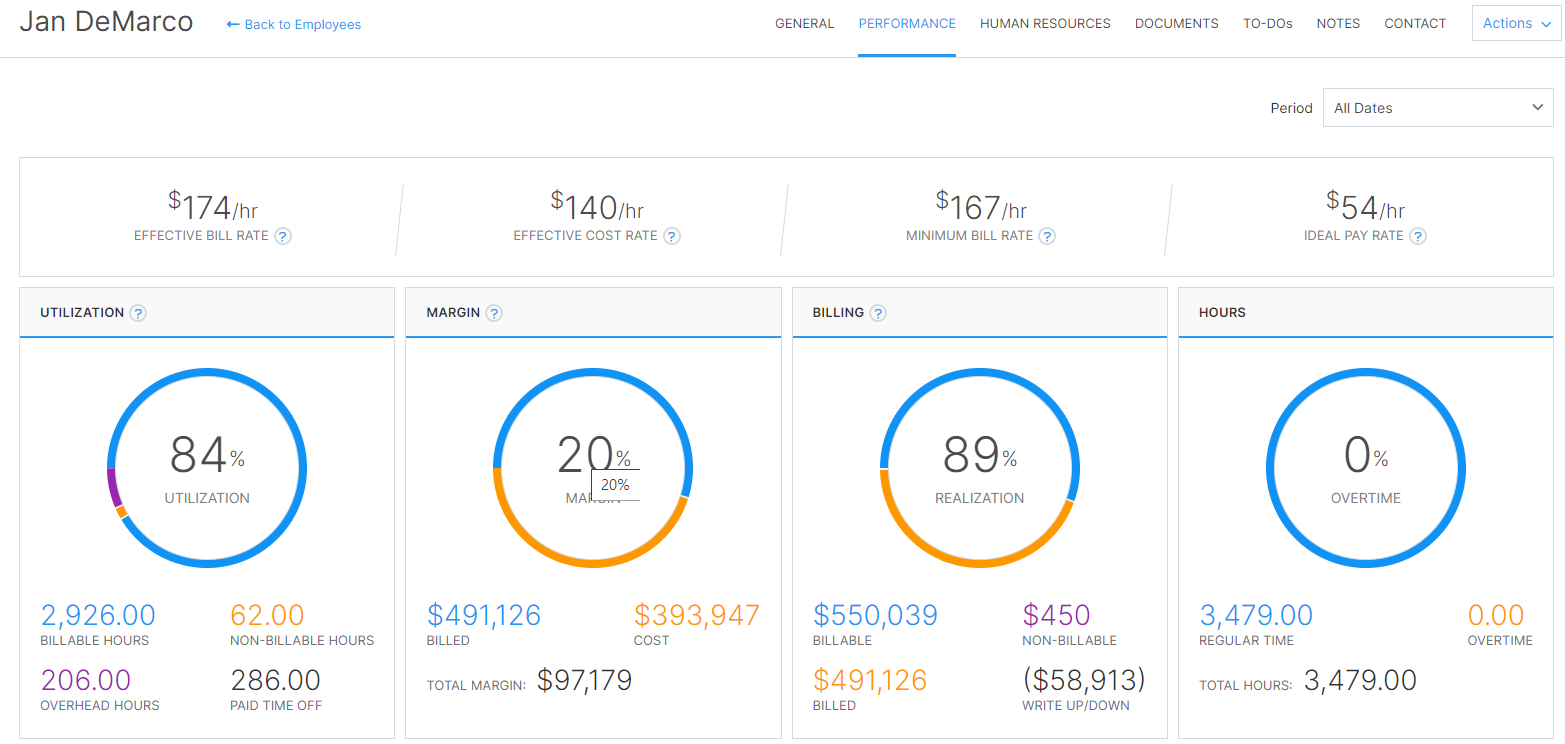 This screen shows you everything you need to know about your employee's billing and cost rates, utilization, and more.
1. Effective Bill Rate: An average of the total billable hours logged by an employee and those billed to the client. It reflects discounts, write-up/down, and write-offs. This will help you manage the appropriate rates charged per employee.
2. Effective Cost Rate: The average total cost of hours billed to a client. From this metric, companies have a better understanding of their payroll and overhead margins.
3. Minimum Bill Rate: The baseline bill rate of the employee that produces the target profit per hour. The lowest rate you would be able to charge a client and remain profitable.
4. Ideal Pay Rate: The precise rate at which an employee should ideally be paid to achieve a target profit percentage. This is the best pay rate to offer an employee based on performance.
5. Utilization: Here CORE draws a comparison between the billable, non-billable, and total hours that an employee has worked. Managers can easily see how much an employee contributes to profit-generating activities.
6. Margin: Displays the profit potential of an employee. Employees with greater margins generate greater profit for your organization.
7. Billing: Clarifies the realization percentage and indicates how much an hour of employee's time is worth by looking at the total revenue realized from billed hours.
8. Hours: Compares the ratio of hours worked that are regular hours versus overtime. This can help managers understand which employees are being used above the regular hours and if others are being underutilized. From there, tasks can be reassigned based on skill level.

9. Permissible Hours: Compares the total allowable, used, and remaining paid time off for the employee broken down into categories: Vacation, Holiday, Sick, and Comp Time. These fields communicate to the employee the time off available for use.
10. Gross Margins: Reflects the gross profitability of an employee. The billable and billed margin metrics are similar, except the billed one looks at actual revenue earned and not just what can possibly be billed. Evaluating this will help company leadership better understand the employee's contribution to the organization.
Employee Performance Reports
The Reports screen in CORE offers many valuable reports, spanning every employee level of an organization. Employee reports give you an overview of every aspect of employee utilization and performance in just one click. Each report can be filtered and customized to focus on performance by project, phase, date range, and so much more. Moreover, reports can be memorized for easy access or scheduled to be delivered via email to your team regularly.
As you are using reports to analyze your employees, you should perform the same two analyses:
Which ones did well, and why?

Which ones did poorly, and why?
The winning strategy of any company or organization is to evolve your operations to be better, faster, and more efficient. Without the understanding, evaluation, and application of data, managers cannot measure growth or success. Likewise, companies cannot see opportunities to tighten operational productivity and increase profits.
For additional information on employee KPIs in CORE, please refer to CORE Help Center.